Follow us on Facebook
La Porte By the Bay Half Marathon
The Highest Off-the-Ground Half Marathon in Texas
177 feet water clearance
Race Date: Sunday November 19, 2017
Start Time: 7:30 AM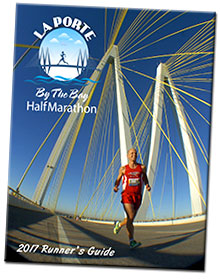 The La Porte By the Bay Half Marathon starts from Sylvan Beach Park by the water, proceeding through La Porte streets and on to the Fred Hartman Bridge, one of the most beautiful and unique structures in Texas.
Supported by two sets of diamond-shaped reinforced steel towers that reach 440 feet into the sky with distinctive yellow cables that seem to glow in the sun, the effect is almost like running through a magnificent open air cathedral. After looping back to take on the bridge for a second crossing, the race finishes at Five Points Plaza where the post-race party awaits with amazing food and cold beer, awards and good times with family, fellow runners and friends.
All finishers will receive a medal.
The La Porte By the Bay Half Marathon is the third and final race in the Texas Bridge Series, organized by Running Alliance Sport.
Details about the race including course map can be found on the Info page.
Online and mail in registration form are linked from the Register page.
Frequently Asked Questions about the race and answers to them can be found on the FAQ page.
Our wonderful Sponsors can be found on the Sponsors page.
Contact us by using the online form on our Contact Us page.

To Benefit:
The Bridge over Troubled Water better known as "The Bridge"
"The mission of The Bridge is to offer support, provide safety, and prevent domestic and sexual violence."
Also, check out these other very good causes that we like.